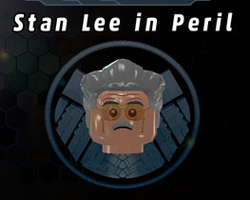 Stan Lee in Peril are special missions that appear in the open world of New York City, hub worlds and free play storymode levels that require you to save Stan Lee from dangers. They appeared in both LEGO Marvel Super Heroes and LEGO Marvel's Avengers. However, in the first game there are 50 missions whil in the second game there are 35.
Upon completing all Stan Lee in Peril missions, the player unlocks Stan Lee free of purchase.
Locations
Edit
Stan Lee in Peril missions can be found throughout the main storymode, extra missions as well as the free roam. They can be completed in a wide assortment of ways. Each mission is unique and are fairly easy and quick to complete. In free roam completing one Stan Lee mission will unlock the next (except in the case of the hub worlds in LEGO Marvel's Avengers which only have one Stan Lee in Peril mission in each)
Ad blocker interference detected!
Wikia is a free-to-use site that makes money from advertising. We have a modified experience for viewers using ad blockers

Wikia is not accessible if you've made further modifications. Remove the custom ad blocker rule(s) and the page will load as expected.