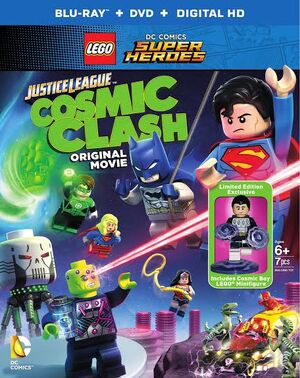 The brilliant, hyper-obsessive-compulsive, super-computer Brainiac is combing the universe for new additions to his collection of worlds when he stumbles upon a ripe planet for his taking--Earth. But Brainiac quickly discovers Earth has a "firewall" – the Justice League. When Brainiac cleverly displaces several members of the Justice League to other time periods in Earth's history, Batman, Flash and Cyborg must build and use the Cosmic Treadmill to race across time to retrieve their comrades – while members of the Legion of Super Heroes attempt to hold off Brainiac's assault. Only time will tell in this battle for the fate of the Earth and the Justice League!
Cosmic Boy is included as an exclusive figure with purchase of this film.
Ad blocker interference detected!
Wikia is a free-to-use site that makes money from advertising. We have a modified experience for viewers using ad blockers

Wikia is not accessible if you've made further modifications. Remove the custom ad blocker rule(s) and the page will load as expected.