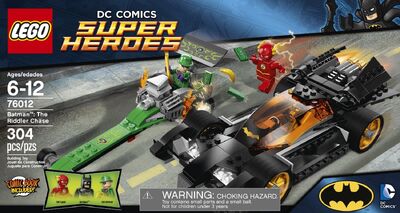 Batman: The Riddler Chase (76012) is a 2014 released set featuring 3 minifigures. This set is recommended for ages 6-12. The piece count is 304 and it retails for $29.99.
The set features a redesigned version of the Batmobile, which includes a detachable cockpit and hidden flick missiles. The Dragster includes a big engine, flames, huge rear wheels, money bags and a detachable bomb. The set includes an assortment of weapons and acessories: Bannana, batarang, and a crowbar.
Minifigures
Edit
The Flash was formerly exclusive to this set. The Batman and the Riddler's variation are still exclusives.
The Batmobile and Batman minifigure included in this set are loosely inspired by the TV series Beware the Batman. However, neither The Flash or the Riddler have appeared in the series.
Ad blocker interference detected!
Wikia is a free-to-use site that makes money from advertising. We have a modified experience for viewers using ad blockers

Wikia is not accessible if you've made further modifications. Remove the custom ad blocker rule(s) and the page will load as expected.